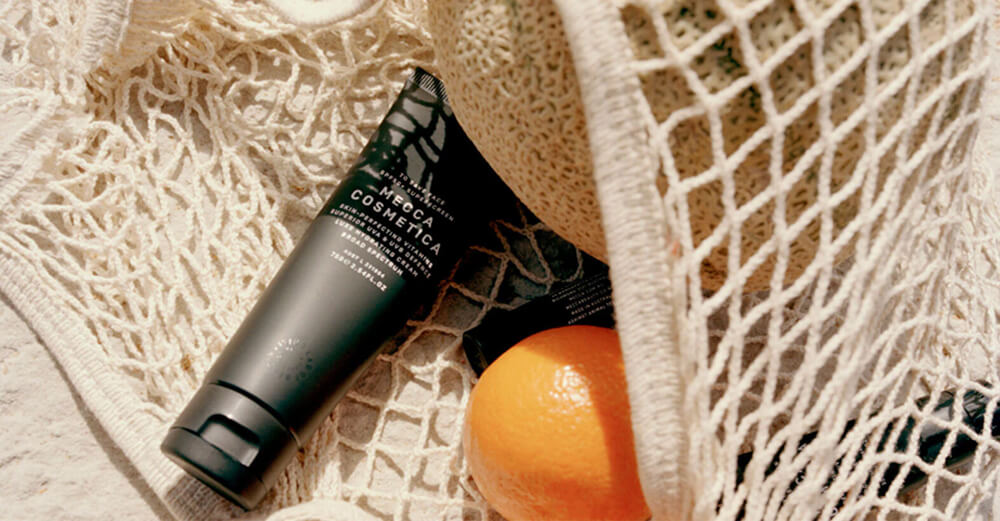 WHAT'S THE DIFFERENCE BETWEEN OVERSEAS AND AUSTRALIAN SPF RATINGS?
First thing's first – let's talk the TGA. More formally known by its slightly-less-sexy name, the Therapeutic Goods Administration, this government body is responsible for regulating therapeutic goods (such as prescription medicines, vaccines, vitamins and of course, sunscreens).
Any product that falls into this category must be listed on the Australian Register of Therapeutic Goods (ARTG) before it can be supplied in Australia, and let's just say, there is a really strict process in terms of what can and cannot be listed – and for good reason; we know how dangerous UV rays can be for our skin, so the TGA ensures that only the highest quality, verified SPF products can be sold in Australia (*ahem* like MECCA COSMETICA!).
So, if you purchase an SPF elsewhere in the world, it's unlikely to be an approved sunscreen in accordance with the TGA (as it will not have gone through the required approval process). For instance, if you purchase a product from overseas that is labelled as an SPF30, and it's not sold in Australia – it's likely because it doesn't meet Australian compliance standards. So, your best bet is to stay safe and pick one that is.
ARE ALL SUNSCREENS CONSIDERED 'THERAPEUTIC GOODS'?
Short answer? No. 'Therapeutic' sunscreens include 'primary sunscreens' (the ones designed to be used purely as a form of protection) and some moisturisers with SPF in them. Basically, you should only rely on therapeutic SPF products as a means of protection against the sun's harmful UV rays.
The other type of sunscreens are 'secondary sunscreens', such as tinted moisturisers, foundations or primers that contain SPF. Think: products with the primary purpose being cosmetic, with sun protection as their secondary function. While it's a great idea to use a makeup product with SPF, it should still be used on top of a primary SPF and not relied upon as a primary means of protection.
WHAT DO THE RATINGS MEAN ON AN SPF PRODUCT?
SPF stands for 'sun protection factor' – and we often see it used in conjunction with a number (such as 'SPF30'). This number represents how much time UV rays take to burn skin with the sunscreen on, compared to skin that's had no sunscreen applied. (UV stands for 'ultraviolet' – UV rays are types of light from the sun, which is what causes sun damage.) It also takes into account both UVA (associated with skin ageing) and UVB (associated with skin burning) rays, so you can rest assured that if a sunscreen is labelled as 'broad spectrum', it's filtering both UVA and UVB rays.
How do they work out the rating? According to the TGA: If skin protected with sunscreen takes 300 seconds to burn [with sunscreen applied liberally], but only 10 seconds to burn without sunscreen, the SPF is 300/10, which is 30.
If you're not the numbers-y type, this means that the higher the SPF, the longer UV rays take to burn your skin. Regardless of which rating you opt for, be sure to apply your SPF liberally every two hours. MECCA and our expert Dr Van Park advise that you apply one teaspoon for the face, neck and ears (and one cupped adult hand – 30 to 40ml – for an adult body).
ON THAT NOTE, WHAT DOES THE + SIGN MEAN ON AN SPF?
Ah, the plus sign! An enigma that everyone always wonders about (but never remembers to research!). Fun fact: the plus sign means that the SPF rating on a particular product is actually higher than the number. For example, a sunscreen with an SPF50+ must actually have an SPF of 60 or more.
MY SPF PRODUCT FROM OVERSEAS HAS A PA+ SIGN ON IT, WHAT DOES THIS MEAN?
Similar to SPF, the PA+ system is a way to measure the efficacy of sunscreens; unlike SPF, it isn't a universal ranking system.
Essentially, the PA+ system measures only UVA protection, whereas SPF measures both UVA and UVB protection.
SO, WHAT ARE THE BEST AUSTRALIAN SUNSCREENS?
Where do we begin?! If you're after an everyday, non-greasy, lightweight facial sunscreen sans white cast, then look no further than MECCA COSMETICA's To Save Face SPF50+ Superscreen. MECCA's number-one bestselling SPF has more than 1000 five-star reviews for a reason: it feels light, wears perfectly under makeup and won't clog your pores.
Always remember: follow directions for use. Reapply as directed. Avoid prolonged sun exposure. SPF is only one form of sun protection – use in conjunction with protective clothing, hat and eyewear.
Originally published on www.mecca.com.au.